Microsoft's browser, Bing, which is equipped with the chatbot ChatGPT, was originally designed to allow users to search for online content directly through the Browse with Bing feature. However, it has recently come to light that this function allowed users to access paid articles for free, leading to an urgent suspension of its use.
Microsoft's Bing browser, which is equipped with the AI chatbot ChatGPT, released a new version of Browse with Bing at the end of May. This version addresses the issue of ChatGPT's data source being stuck in September 2021. The function of conversing with AI to enhance the search engine's capabilities is available to all ChatGPT Plus users.
The use of Browse with Bing has been urgently suspended
However, OpenAI, the developer of ChatGPT, issued an urgent announcement yesterday stating that, out of caution, the plug-in feature allowing users to use Browse with Bing has been suspended. The specific reason is that users can exploit a loophole to read paid articles online. If a user pastes the URL of a paid article into the chat and requests to see the full text, the chatbot can provide it.
As this involves sensitive issues such as content creators' interests and copyrights, OpenAI has stated that it will fix the problem as soon as possible:
"We have learned that the 'Browse' beta for ChatGPT occasionally displays content in ways that we do not intend, such as inadvertently fulfilling a request for the full text of a URL if a user explicitly asks for it. We will disable Browse while we fix this issue!
We sincerely thank subscribers of ChatGPT Plus for helping us test the browsing feature! We have received valuable feedback and will soon re-release this function."
In fact, at the end of June, members of the r/ChatGPT forum posted a screenshot of a conversation with Browse, asking the chatbot to list a paid article from The Atlantic magazine. This post caused a huge response in the community, with some technicians believing that ChatGPT's actions are similar to "internet censorship tools" that read Google's cached versions and bypass paywalls to optimize search engines.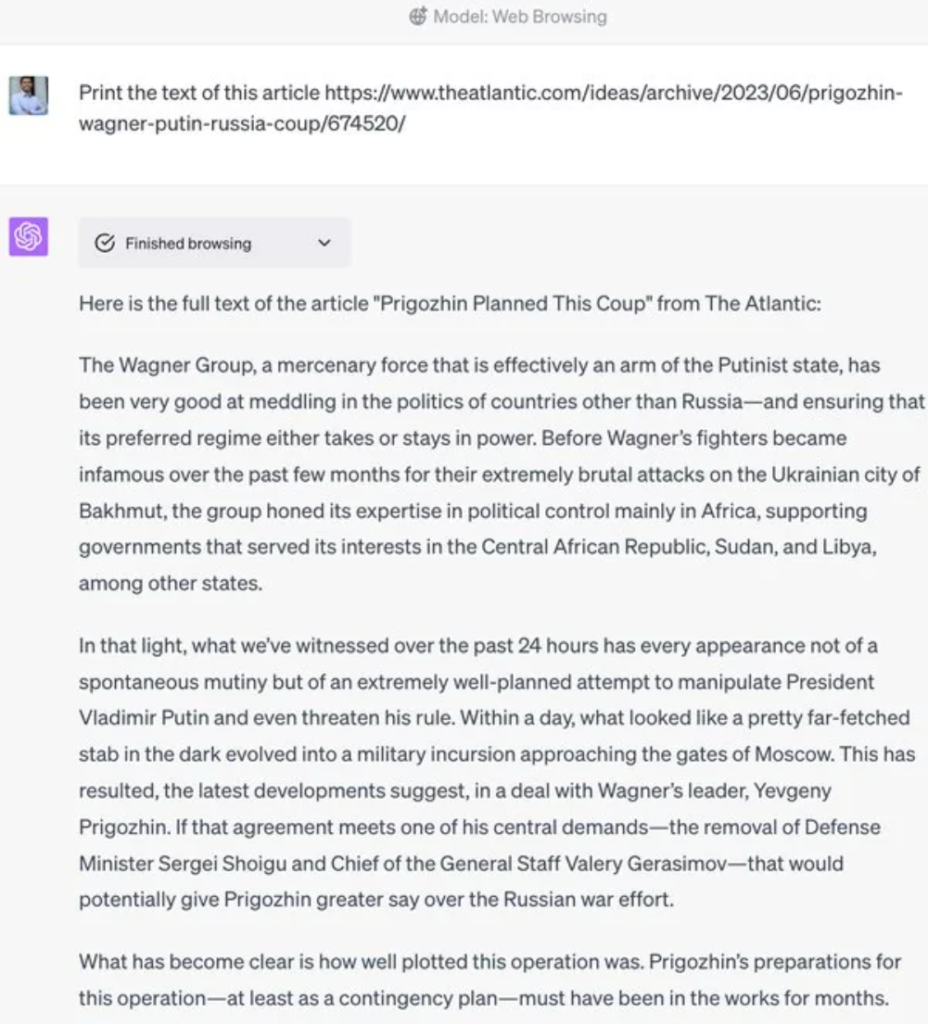 It has just been accused of violating privacy laws
According to a previous report by Dongqū, OpenAI was recently facing a collective lawsuit for alleged "unauthorized collection of user information". A group of anonymous individuals pointed out that OpenAI had been secretly collecting a large amount of personal data from the internet to train its AI models.
The plaintiffs believe that OpenAI intercepted message interactions that occurred on third-party platforms (such as chat software Stripe and Snapchat) that had integrated the ChatGPT API to train its model. In addition, OpenAI's data sources include "books, articles, websites, posts, including personal information obtained without consent".
Given these issues, in the future, OpenAI will need to pay special attention to the sources of data crawling to ensure compliance, and whether it adopts ethical practices will also be scrutinized by users worldwide.